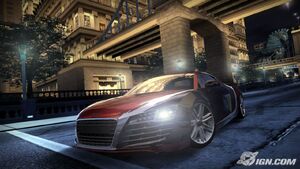 The Audi Le Mans Quattro is car which only appears in Carbon. The production version of the car, renamed the R8, is featured in other Need for Speed titles, such as Need for Speed: World. It is driven by Darius, the main antagonist in the game.
Performance
[
]
The Audi Le Mans Quattro is one of the best cars in the game. It has quick acceleration and a high top speed. The Le Mans Quattro has excellent handling also, although tends to slightly drift in corners making it less controllable than the BMW M3 GTR and Porsche Carrera GT. However, the 4-wheel-drive system gives a good balance.
The Le Mans Quattro appears in numerous cutscenes during the game, all of them have the car driven by Darius.
After you win the canyon duel with Darius, the screen says that the player has unlocked the Le Mans Quattro, and 4 other cars, whichever the player cannot unlock in their career. Also, there is a cutscene after that screen, in which Darius gives you the car. This leads most people to believe the car is unlocked for them to use in career, which is not true. The screen after reads the player has unlocked the car for Quick Race, as well as 4 other cars (which can be used in career), and this is correct. It can only be used in Quick Race.
However, with NFS-VLTEd, the player can make the Audi Le Mans Quattro available in Career Mode, by, changing the IsCustomizable node from False to True.
Unlocking
[
]
The Le Mans Quattro is unlocked for Quick Race after you defeat Darius. However, in the PC version, it can be obtained in career with a purchase price for $250,000 if the player edits the VLT-ed config to change the IsCustomizable field from False to True.